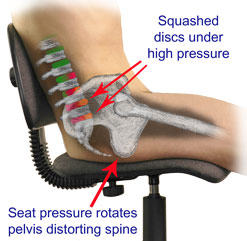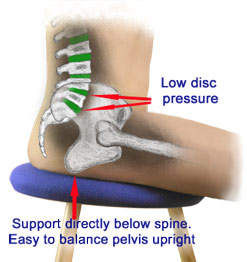 Why sitting often causes a strained spine and high disc pressure
Have you noticed that most people sit 'upright' like in Fig.1? The chair has tipped the pelvis backwards off balance. As the torso weight bears down on the spine and the seat pushes the base of the pelvis up, the pelvis becomes a lever bending the spine forwards and distorting it. (There are ligaments to limit this bending. They are strong for brief exertions like lifting, but under prolonged stress they stretch till they can't protect the discs.) The results are strained ligaments and compressed intervertebral discs.
A healthy lumbar spine should be curved inwards like in Fig.2. Compared to this, notice how the pelvis has slumped back, squashing the fronts of the lowest discs so they bulge under pressure. (In the healthy spine the discs are not parallel, but are thicker at the front than the back.)
The angle, and or shape, of most seats tends to tip the pelvis backwards. If you look closely you will see that nearly everyone has a slumped pelvis when sitting upright. The more the pelvis slumps the more pressure it puts on the discs. The damage this causes gets worse the longer you sit in this posture. (Reclined sitting spreads the bending over the whole spine and is not as damaging as sitting upright but with a slumped pelvis.)
The best way to treat most back pain is to improve the way you sit, but if it doesn't improve within a few weeks you should see your doctor as the causel could be a medical one.
The three problems caused by a strained spine and high disc pressure
Dull chronic backache (lumbago) from overworked and tense muscles
"Mechanical back pain" Sudden acute pain usually brought on by bending, lifting, or twisting. Doctors often can't find a cause. John Gorman (see below) believes this has evolved as a warning to stop activity that is putting discs at risk.
Prolapsed or herniated (slipped) discs, and possibly sciatica, could happen at anytime when bending or lifting.